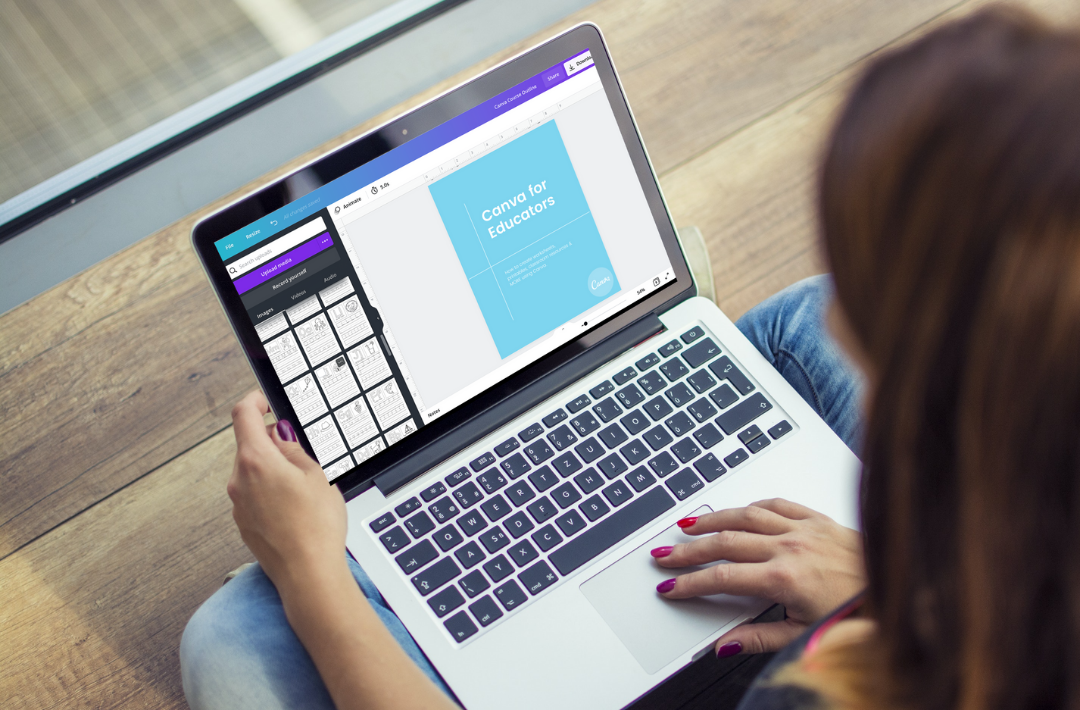 Why you NEED to be using Canva!
Canva is the NEWEST design program that will change the way you create! Its drag and drop functionality requires no advanced tech or design skills making it the easiest way to design and create!
Stop using Microsoft Word & Powerpoint to create your educational resources. Use Canva to quickly and easily create all of your worksheets, printables, classroom resources & less than HALF the time!
Enroll in the course today and learn how to confidently use Canva in less than 8 weeks!
*We are in no way affiliated or sponsored by Canva.
What is included in the course?
Quickstart Guide to
Setting Up Canva
Learn how to set up & personalize your Canva account to better work for you.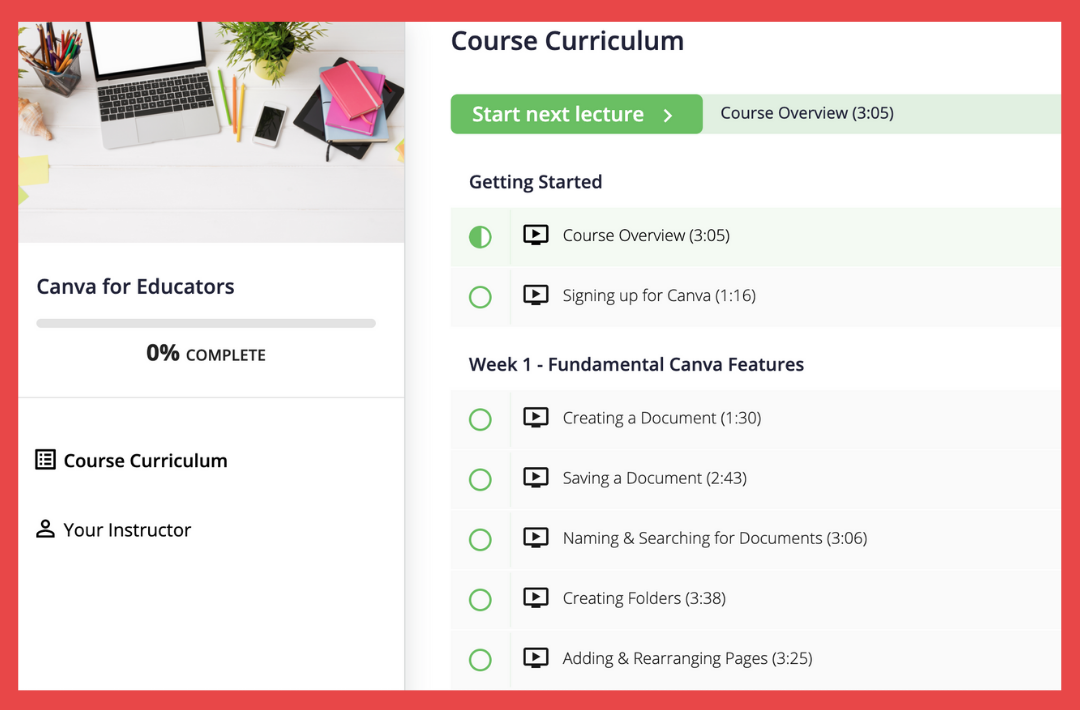 Fundamental Canva
Training Videos
Learn how to use fundamental Canva features to easily create beautiful educational resources.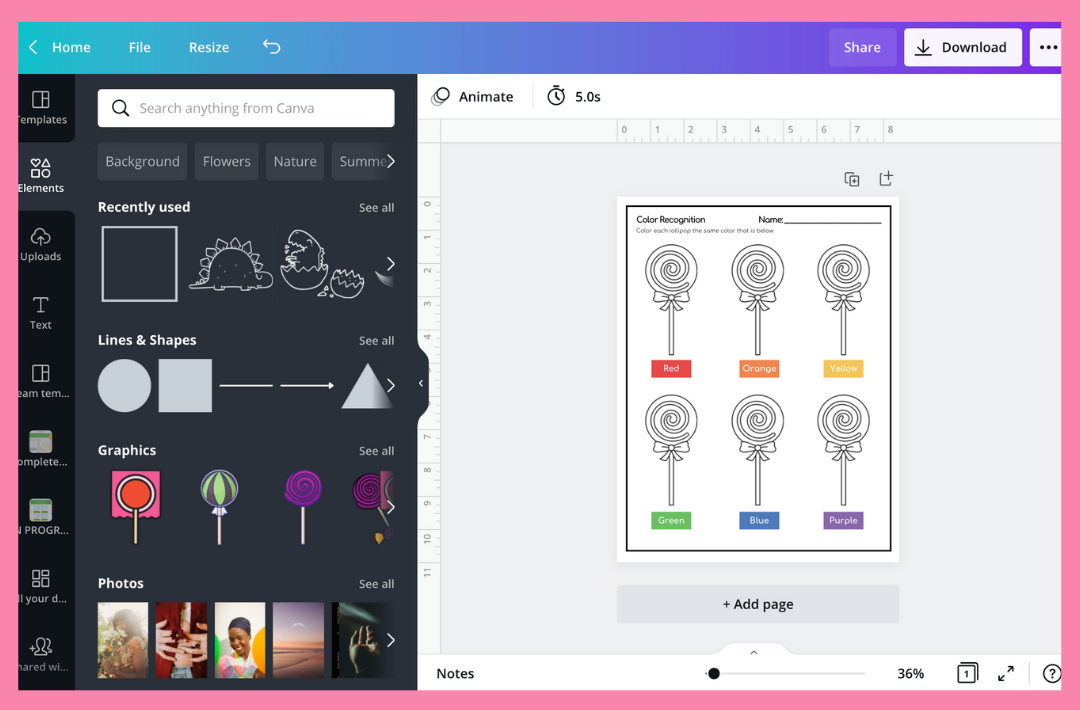 Hands-On Learning Workshops
Follow me along as we recreate projects to help you practice the features that you have learned.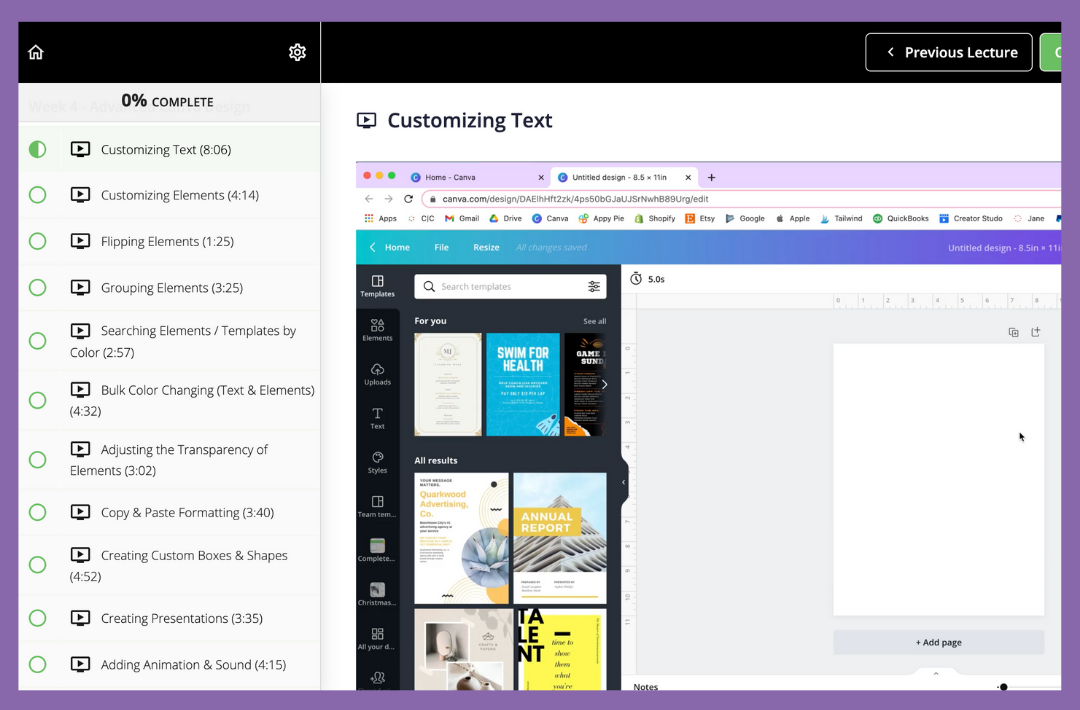 Advanced Canva
Training Videos
Learn how to use the advanced Canva features to take your resources to the next level.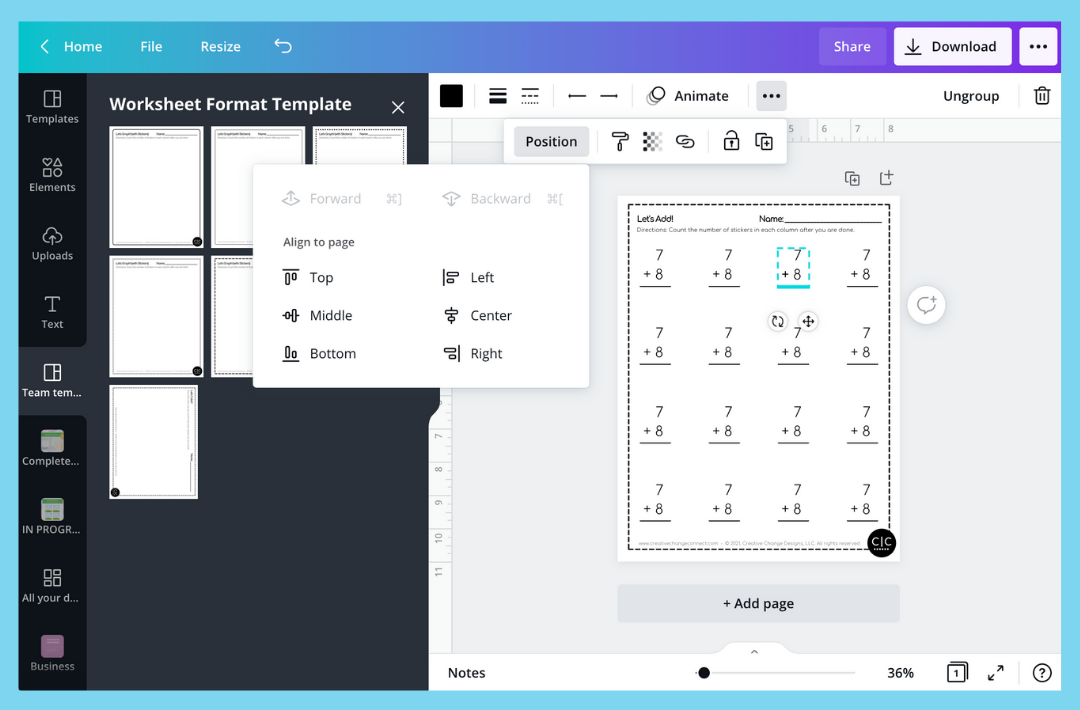 Editing Tips - Make Your Designs Stand Out
Learn how to edit your documents to get them ready to sell or to use in your classroom.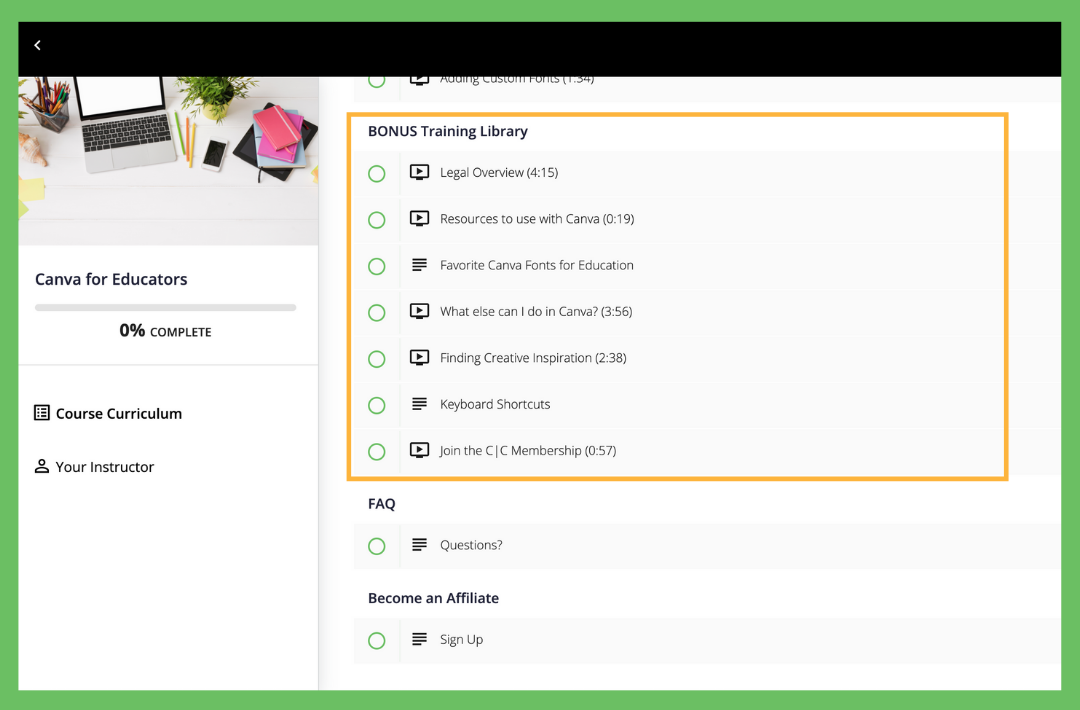 BONUS
Resource Library
Additional trainings & resources to help take your content creation to the next level!
Course Curriculum Overview

I loved your workshop formats! You did such a nice job of showing some great worksheets that could be used for different things.
-Joa

I am having so much fun! I genuinely look forward to my Canva Course time each day! I have already used [what I have learned] to make a few worksheets that would have taken ages in word but have now only taken me a few minutes in Canva.
- Sinead

I am learning new things despite using Canva for a couple of years, so that's cool :)
- Tobi
Let's Create Together!
By the end of this course, you will be able to create amazing resources with ease and confidence! (Examples shown are for PreK - Early Elementary, but the skills learned in this course can be used for any age.)
Frequently Asked Questions
Q: Who is this course designed for?
A: This course is designed for anyone who is wanting to learn how to create educational resources including worksheets, printables, and MORE! We focus on early elementary worksheets in the hands-on workshops, but the skills learned can be used for any grade level.
Q: I am not tech-savvy - will I be able to benefit from this course & Canva?
A: YES! I will walk you through how to do it all step by step PLUS Canva has been designed to be used by anyone no matter your tech or design level/experience.
Q: Where can I learn more about Canva?
A: Click HERE to learn more about Canva!
Q: I am at the beginning stages of creating an online shop for educational resources, will this course work for me?
A: YES! This course will be the perfect place for you to begin as you create your new online shop. You will learn how to create resources that will sell and you will be introduced on how you can use Canva for your business needs as well.
Q: How long will I have access to this course?
A: You will have lifetime limited access to this course and you will receive access to all of the course updates.
Q: I have never used Canva - will this course work for me?
A: Yes, absolutely! This course will begin at the basics and build upon each new feature as we make our way through the course. No previous experience is needed.
Q: Do I need to have a Canva Pro account for this course?
A: No, you will not need a Canva Pro account for this course. In the first section, I will walk through how to sign up for Canva and what the benefits of Canva Pro are. I recommend just starting out with a free account for this course. If you have an K12 email address, you can gain access to Canva Education for free.
Q: How long does it take to complete this course?
A: The course was designed for you to go at your own pace. I have structured it in a way that you can complete the course in under 8 weeks and you can easily go back into the course at any time to refresh yourself on any of the skills taught.
Q: What is your refund policy?
A: We offer a 30 Day Back Money Guarantee from the time of purchase if you are not 100% satisfied with the course.
Q: I have additional questions about this course - how do I get in touch with you?
A: Email me at [email protected]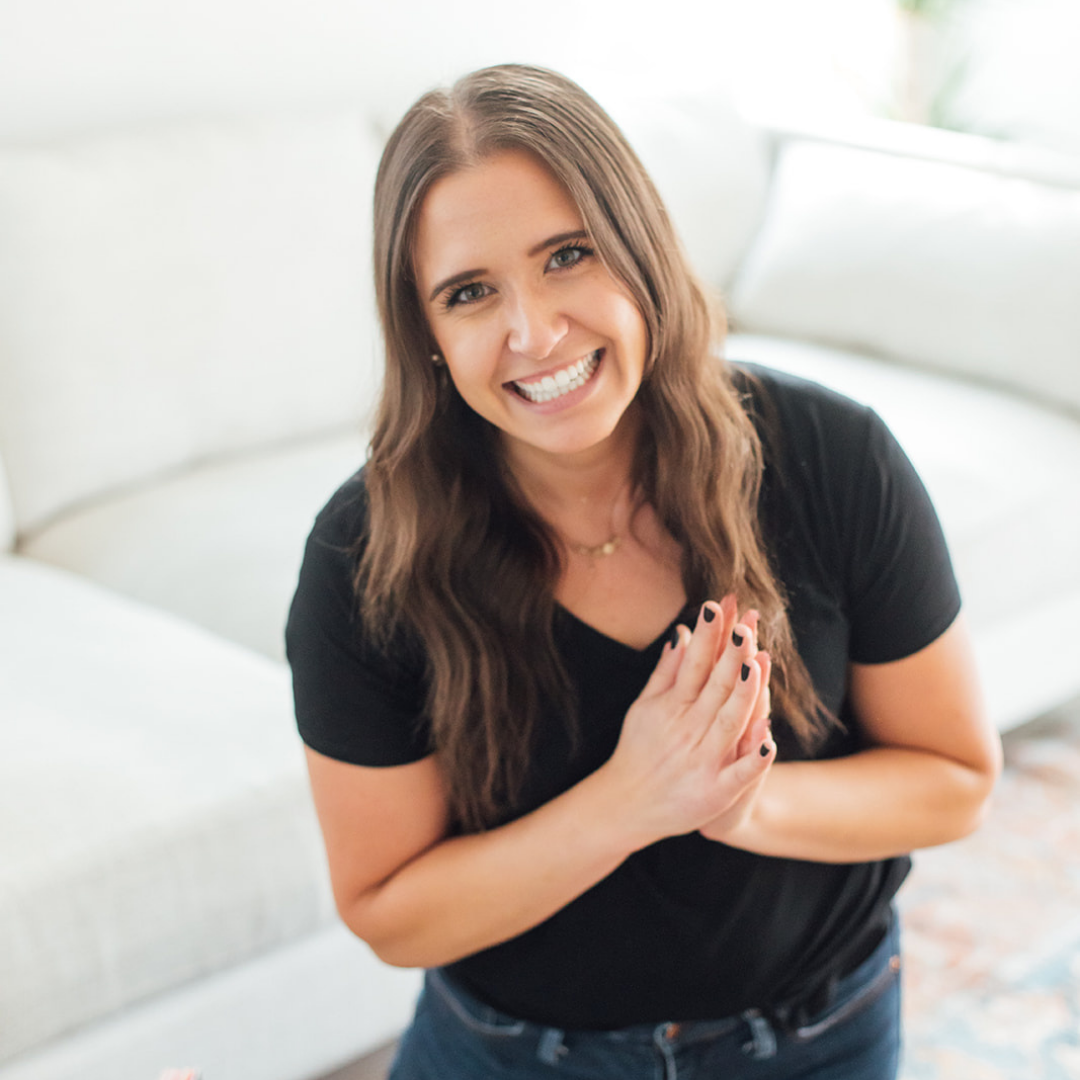 Hi! I am Courtney!
I'm the creator and founder of Creative Change Education and I'm passionate about teaching educators how to confidently create beautiful, sellable worksheets and printables using Canva. I have been creating worksheets, printables, and other business resources for over 2 years now using Canva and I am officially obsessed! I can't wait to teach you all that I know so that you can confidently create resources to use in your classroom or to sell on Teachers Pay Teachers or Etsy!
Follow me on Instagram
@creativechangeconnect
Check your inbox to confirm your subscription